Packaging is used to contain and pack food products, in order to protect the use value of food, to make transportation and handling convenient and easy. It also preserves and consumes food better.
In addition, food packaging in particular and other types of packaging in general is also a bridge between producers and consumers. Packaging is a representative of the brand, a tool to show images, as well as information put on the packaging to convince consumers' trust and choice.
Recently, more and more companies are starting to package their products in metal packaging boxes. Metal packaging is not only luxurious but also conveys the brand message
So, is metal the right choice for your company's product? This guide will discuss the most commonly used types of metal packaging, Food and the benefits of switching to metal packaging.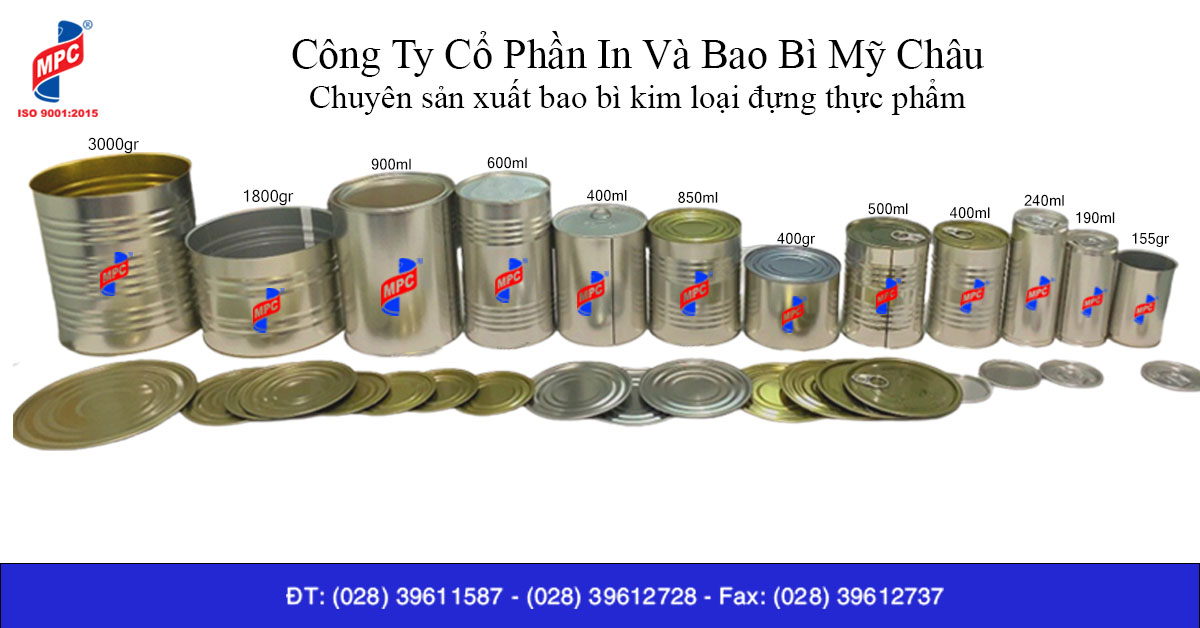 Metal Container Adds Flexibility and Distinction to Brand
Canned drinks: Fruit juices and juices are often packaged in aluminum or iron cans. Aluminum drinks are the most recycled of aluminum products, with almost 50% of all cans recycled annually.
Canned food: Pate, shrimp, fish, crab, pork, soup, fruit, in metal box. Canned foods extend shelf life and are convenient 
Paint Containers: Although some paints are sold in plastic containers and containers, metal containers are still used frequently. Metal paint can be lined or unlined, depending on the type of paint.
Food packaging
Metal packaging for confectionery
Coffee tin box packaging
Coffee for storing coffee, Proper storage of coffee ensures that it packaging its aroma and stimulating properties longer, especially appreciated in the morning. A cup of fresh coffee for breakfast is a morning ritual and a favorite morning activity for many coffee lovers. The coffee cans available in our store are of the highest quality. They are made of the finest materials, plastic and stainless steel. They have special tongs, so that the food contained in them stays fresh and fragrant for many days.
We bought our favorite coffee. The infusion includes nuts, almonds and cherries in chocolate. What to do to prevent coffee from spoiling, keeping fresh for a long time and avoid loss of aroma during storage? Coffee beans face many enemies on their way to the cup: excess air, moisture, too high or too low temperature, light, strange smell. When asked how to preserve coffee, there are some myths and rumors that are worth revealing.
Metal Packaging - My Chau Printing and Packaging Joint Stock Company has been established for 23 years and has set standards for leadership and innovation in all areas of metal packaging. Packaging plays a very important role in branding a business or product and of course determines the first impression of a company's product.
Each customer product of My Chau Packaging is designed with its own soft copy, logo and business details are stamped on the package, this function plays a very important role in the quality of service that customers receive. be and also in increasing sales. So when you are looking to brand your business, it is very important to choose a seasoned Packaging company that can advise your business on the subject and of course provide you with translation services. service and fulfill your request.
For more information please contact us:
Factory Address: 18 Luy Ban Bich, Tan Thoi Hoa Ward, Tan Phu District, HCMC
Hotline: 028 3961 1587 VND
Get a free quote: 0903 385 794
Email: Congtybaobimychau@gmail.com