Scope: Food, processed food, pickled food, packaging of pasteurized and sterilized food products such as canned tuna, basa fish, crab, pate, shrimp, meat, beans of all kinds
Classification: Direct printing on canned goods / decal stickers on plain packaging
Style: Differentiation, High-end product positioning, brand positioning with competitors
Specifications of canned packaging: Canned food packaging, also known as 2-piece tin cans, meets food standards, suitable for packaging meat, fish, vegetables, tubers, fruits... Lacquer layer inside the can is diverse. depending on the food in the can. White, Resold Meat Aluminum inner layer of can. Outer printing can be customized according to customer's design on the outer packaging embossed printing
1.

Mẫu số

202 #

211 #

300 #

307 #

401 #

404 #

603 #

2.

Đường kính (mm)

52.3

65.3

73

83

99

127

153

3.

Chiều cao (mm)

39-160

39-200

40-200

42-205

43-150

43-150

68-250

4.

Độ dày

0,18-0,28mm

5.

Temper

T 2.5, T3, T4, T5

6.

In bên ngoài

In thường hoặc in màu

7.

Sơn mài bên trong

Vàng, Trắng (theo thực phẩm bên trong lon)

8.

Loại nắp

Nắp bình thường hoặc nắp mở dễ dàng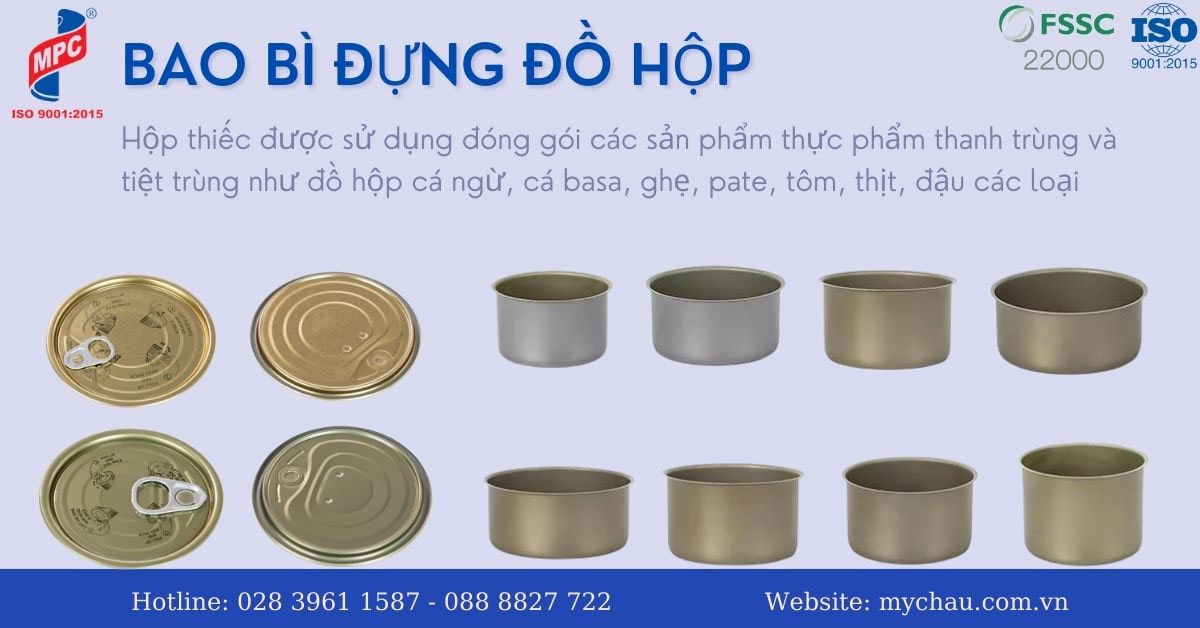 MPC is a fully integrated manufacturer, roll to can. We are capable of cutting and coating steel, printing and managing pre-pressing, and also manufacture and supply a full range of heads and cans. American Canned Food Packaging produces hundreds of millions of boxes of food each year, for everything from easy to tough foods, to baby nutrients (like baby formula) and a wide variety of food packages. for dogs. Our high-quality canned goods are stackable for easy shelf display and home storage. And rapid innovations in technology mean they only get better and better. Today's easy-opening loops make canning more convenient, and the improved steel construction makes them lighter, yet less prone to dents.
We are strategically linked with the best iron suppliers and our volume fosters cost competitiveness, in line with our unwavering commitment to the highest standards of quality and service.
Canning is a method of preserving food for a long time by packing it in a sealed container
Canned food packaging is composed of two parts, the body of the can is connected to the bottom and the lid of the can. The 2-piece can is suitable for canning tuna, herring, sardines, sardines, 2 slices of pork, pate, red crabs, green crabs, fish sauce, shumai, stewed chicken, stewed chicken with ginseng, .... Ready-to-eat foods can be served immediately or reheated. The product uses 2-piece cans that are sterilized at high temperature to help eliminate anaerobic bacteria, which can be preserved for a long time.
The technology of printing 2-piece cans for the first time appeared in Vietnam to help increase product value than using sticker labels on cans.
Commonly used for fish and ready-to-eat food, our 2-piece cans can be used to protect and add value to all your products (tuna, pate, pork, braised beef, sauce…) Our factory is ISO 9001 and ISO 22000 certified
Starting from a minimum order quantity of 100000 cans, made to order we offer a cost effective solution and a wide range of options to ensure the right fit for your product.