PRODUCING METAL PACKAGING FOR TINY COFFEE - PRESTIGE, QUALITY, GOOD PRICE
Packaging conveys messages to target customers through many different senses. That's why businesses and product managers must examine and elevate how packaging is perceived by consumers.

We have a wide range of standard sizes and custom production based on your technical needs. See the full range of tins in various shapes for coffee packaging.
For coffee packaging, My Chau packaging offers many sizes, materials, shapes, packaging methods, printing effects and colors to convey your product's message.

Packaging material: tinplate: Low weight, high strength, eco-friendly with high protection of food products from impurities, bacteria, moisture, light and odors

Shapes: Choose from a large number of existing formats and tools, or create a special shape to suit your needs.

Effects: Matte, Embossed For sophistication - matte finish on premium metal packaging.
Color: Printing 1 to 7 colors

The tin box helps to better protect the product inside as well as keep the taste of the product when in use. The use of tin cans increases the aesthetics and sophistication of your products. In addition, metal packaging products are reusable and environmentally friendly.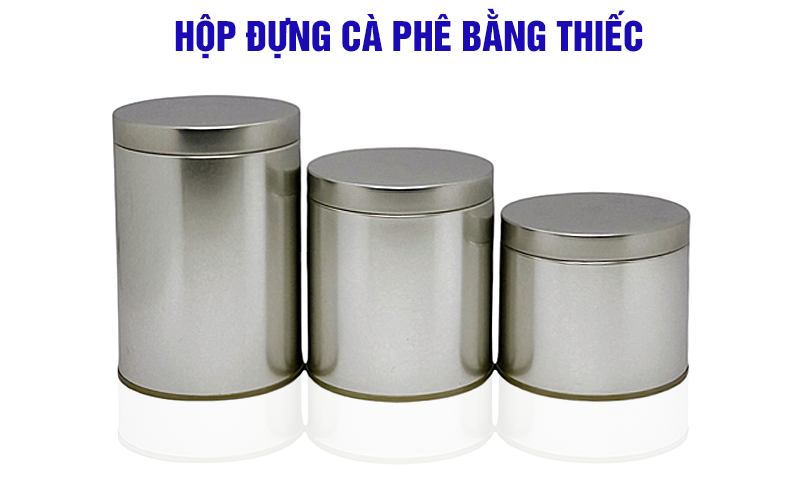 Why pack an airtight container for your coffee packaging?
Airtight containers protect the quality of your coffee without the appearance of packaging. The airtight tin packaging provides durability and stability that will deliver your coffee to your customers safely. In addition, the shelf life of coffee kept in sealed tin cans is much longer than with other preservation methods. Once your customers take it home and open their cans, the coffee inside will continue to retain its quality for a long time.
Protect your product and stand out on the shelf with custom sealed coffee cans
 
 Coffee Packaging Printing Solution 
The tin coffee packaging offers an attractive and quality material that is sure to help your coffee stand out from other brands. Tin packaging with packaging printing, reflective or embossing is hard to ignore. Custom tin box packaging printing gives an impression of quality. The ability to collect helps to sell the product inside and provide a lasting advertisement.
With an unlimited choice of decoration and customization options, as well as the ability to create a new design to match your brand, we are confident that we can produce tin packaging. to match your coffee product requirements. We also offer the option of a decorative metal hood that can be printed and/or embossed with the customer's design or logo. It's a great way to complete the tin and turn it into an impressive packaging.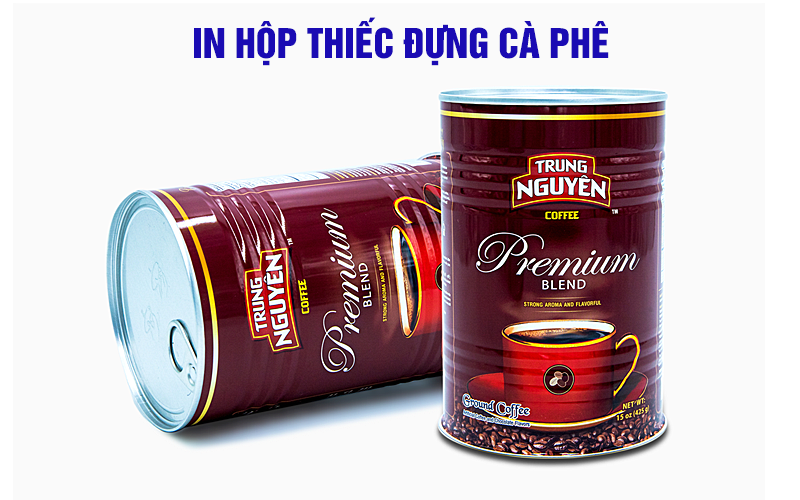 Environmentally friendly coffee packaging
We understand your need for a well-designed, airtight package of coffee and no excuses for sustainability. It is a great advantage that metal packaging is infinitely recyclable.
Steel is special in that it can be recycled many times without loss of quality. It embodies a circular economy as it goes from steelmaking to production for consumers to post-consumer recycling. Once the tin is recycled, it's versatile: the recycled can makes a lantern, a planter, a pen holder, a travel mug, another coffee can, and more. When metal products are thrown away, they are recovered from the waste landfill with magnets and then properly recycled.
Packaging Brand identity is another reason to consider coffee cans. A branded metal coffee can has a higher perceived value and stands out on a shelf. You often see tin boxes decorating restaurants and shops. Metal packaging can be preserved and reused, serving as a permanent advertisement for the product it once contained.
Our sealed box packaging program offers a wide variety. For packaging for coffee, peanuts and food, 2-piece tin metal cans for canned tuna, meat, fish, fish sauce, crabs and 3-piece cans for powdered milk, condensed milk, fruit, farm products, tea, coffee, tobacco, pharmaceuticals, functional foods, confectionery, oil paints, water-based paints, lubricants, cooking oils, olive oil, .... Printing and processing beer and beverage bottle caps of all kinds
For more information please contact us:
Address: 18 Luy Ban Bich, Tan Thoi Hoa Ward, Tan Phu District, HCMC
Phone number: 028 3961 1587 or 0903385794
Email: Congtybaobimychau@gmail.com