Consumers will see it most clearly, Tins are very versatile for storing food, like some types of food tins such as chocolate, candy, cookies. Tin cans are commonly used with bakery products and many other products. Here are important points for tin packaging design businesses who want to switch from plastic packaging to metal packaging
The tin cans are made of ETP iron and TFS iron. Iron thickness 0.20mm. The inside of the body, lid and two sides of the bottom are coated with protective gold varnish, The outside of the body and the lid of the box are printed in color proof signed by both parties. Inks and varnishes suitable for food storage
Material: Tin thickness 0.20mm-0.22mm
Size: 190 x 75, 240cm, 245cm...height can be adjusted depending on your requirements
Printing: CMYK printing, can print your design (Logo)
Printing specifications: All specifications, designs, colors, quality of goods as samples approved between the two parties
Certificate: ISO 9001:2015, FSSC22000
Quality: Food Grade, Safe, Recyclable, Durable
LOGO: Yes, printable and embossable
Usage: For packing biscuits, biscuits
Delivery date: 18-25 days after sample confirmation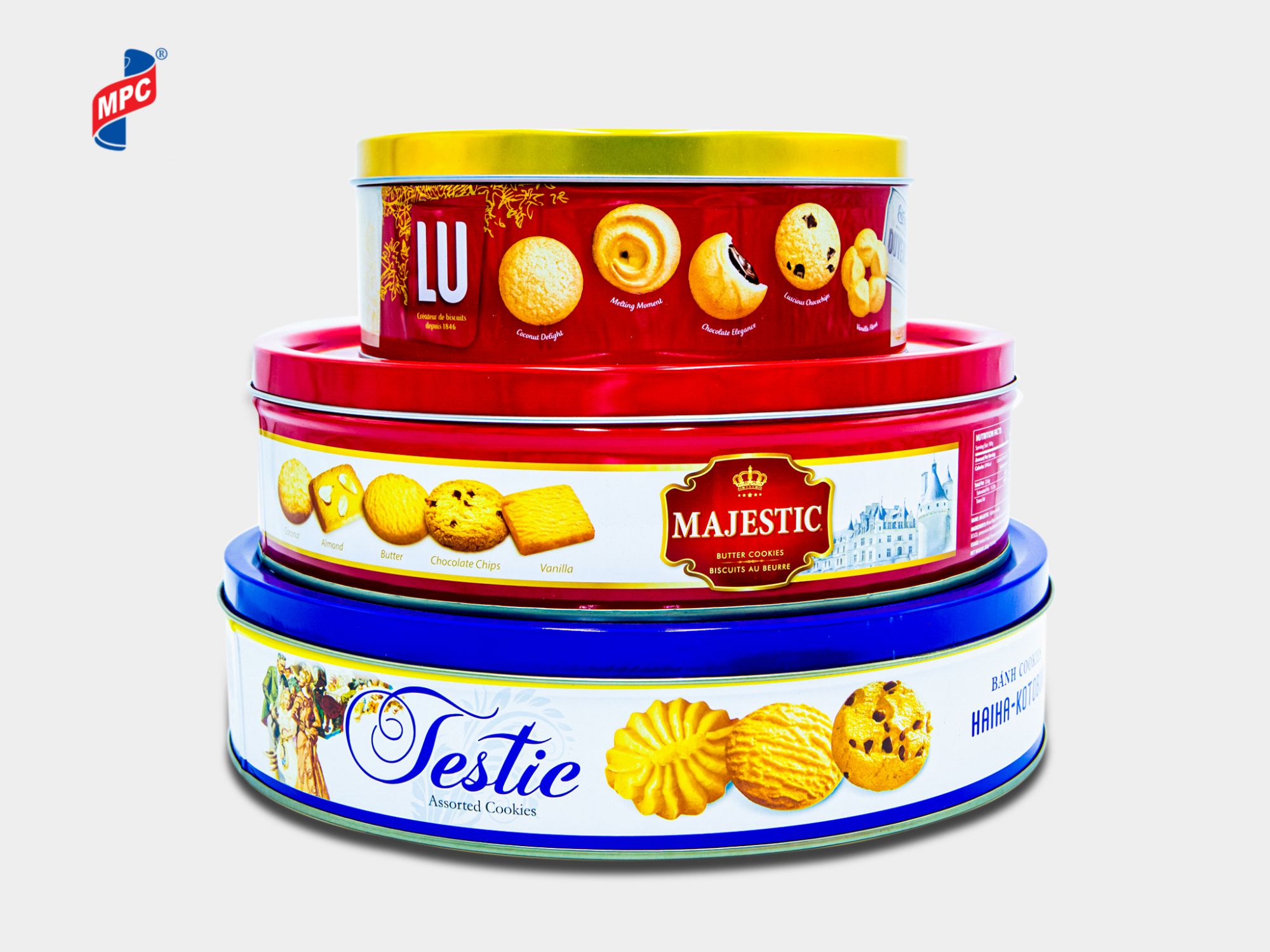 Size of regular cake box
| | |
| --- | --- |
| NAME OF PRODUCTS | SIZE (mm) |
| Rectangular box | 142 x 172 x 239 |
| Round box | 190 x 75 |
| Round box | 240 x 70 |
| Round box | 255 x 75 |
| Round box | 265 x 73 |
| Round box | 290 x 75 |
| Rectangular box | 300 x 210 x 67 |
| Square box | 270 x 270 x 67 |
| Rectangular box | 248 x 160 x 40 |
| Round box | 99 x 170 |
| Round box | 84 x 170 |
| Rectangular box | 165 x 115 x 65 |
| Rectangular box | 185 x 115 x 56 |
| Rectangular box | 165 x 95 x 70 |
Packaging Positioning Increase Quality Value 
One of the main benefits of western iron or some Metal Boxes as packaging materials. Permitted on metallic surfaces. Different colors can be used on metal and create attractive outer packaging. The tin plate is shiny and looks sturdy, along with really protecting cookies and other food products.
Why Choose Tin Box for Cookies
The tin can concept serves as a combination of eye-catching aesthetics and sturdy packaging that protects food from air, moisture and light.
Boxes in the form of cans, boxes and other containers, are the top choice for food packaging as they are reliable in blocking environmental factors that threaten to degrade food.
Tin plate is simply a sturdy barrier to keep the taste, texture and aroma of food, as well as protect the food from bacteria. The metal container is airtight, creating durability for long-term storage, for longer use. The fact that tins are recyclable adds to their popularity during the holiday season, when people think more about helping others. Another advantage of metal is that it allows food to be preserved without the use of chemical preservatives.