2 Ways to Pack Western Iron Canned Food
Canned food products have become an essential part of people's diets, especially in developed regions. They serve great value in areas with limited refrigeration or no refrigeration facilities at all. There are two common types of boxes that packers use: two-piece boxes and three-piece boxes.
Canning has become a popular method for packaging food and beverage products because of the preservation ability of canned goods. However, not all canned goods are created equal as you have learned in this article. While two-piece cans can be used for food and beverage packaging, three-piece cans are more commonly used for food products. Always know the basics when you're in the packaging industry.
Significant changes in the food industry have increased the demand for food cans.
A 2-piece can is a packaging container whose bottom and body are shaped from a sheet of metal by deep drawing, with the second end connected to the can to close and form a complete package for sale. Since the whole can consists of two pieces, it is called a two-piece can.
Large 2 segments designed to keep the food packed inside fresh in taste, color and completely sterile commercially required for the heat treatment (shrinking) before consumption. 2-piece cans are used to pack ready-to-eat foods that do not require heat treatment before use.
The advantages of 2-piece cans are as follows:
The large body has no side seams and no seams between the body and the bottom, so the bulk is sealed and less material is consumed.
The large body can be fully and fully decorated.
The long making process is easy and effective.
Slim manufacturers add premium barrier coatings, convenient features such as easy opening, and use innovative shapes and different decorations to achieve differentiation. for product
In addition, the 2-piece can manufacturer offers a wide selection of sizes and materials with an eye-catching graphic format to bring out the best in your packaging. Manufacturers in the 2-piece can market are offering die-cutting and injection molding screens to improve the look of their packaging and focus on sustainable packaging solutions, while the cans are 100% recyclable. nature will continue to drive growth in the packaging industry.
Cans are used to hold a wide variety of products including beverages, aerosol products, paints, food and many more. Cans used to store food and beverages are usually made of metals such as aluminum and steel. Two basic types of cans are produced today, namely – 2-piece cans and 3-piece cans.
2-piece cans are made by forming a cup-shaped porcelain box with a piece of steel or aluminum. It can be produced by two production processes including redrawing process and drawing and sewing process. The 2-piece can was developed to replace the 3-piece can.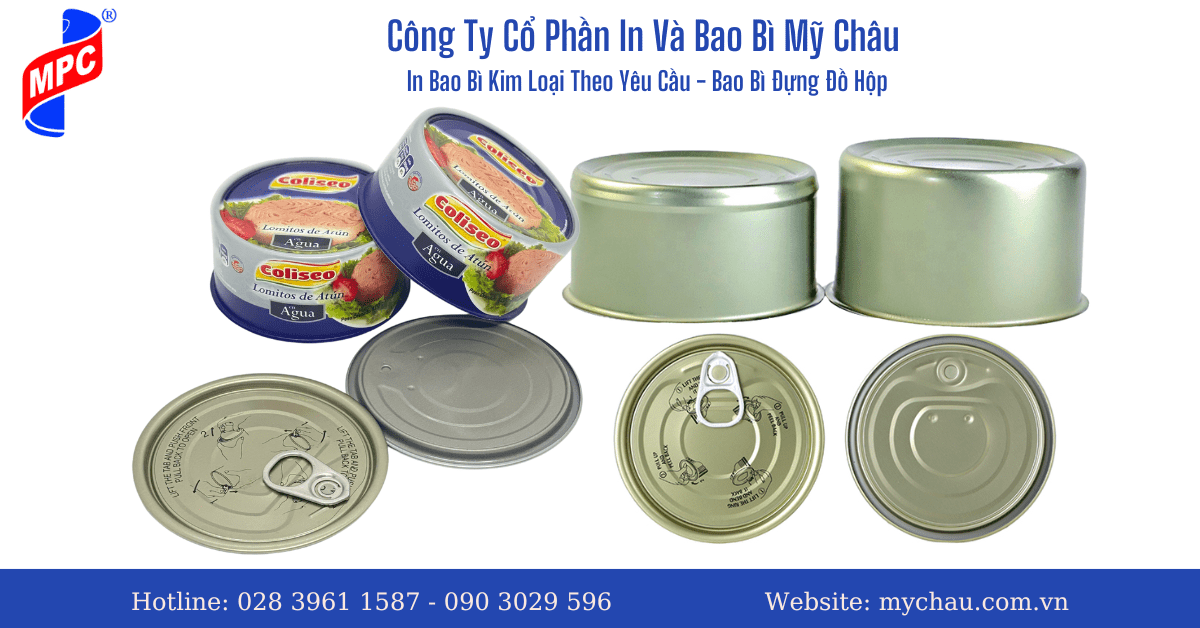 Western Iron Packaging Quality Standard

Various types of lids for the needs of storing products inside the box. The metal lid helps to preserve the product with a long shelf life. The sterilization and sterilization of metal lids prevents the lid from expanding, eliminating anaerobic bacteria.
Application industry of metal packaging for canned food

Vegetables, Seafood, Beverages, Tea and coffee, nuts, Food ingredients, Processed foods, confectionery, milk, dairy products, canned and prepared foods , functional foods
According to the different requirements of the packaging, there will be different demands on the thickness of the iron, the amount of tin and also the mechanical properties. Since its appearance, ferroelectric materials have progressed towards becoming thinner and thinner. There are two methods: one is to use as little tin as possible, and not even tin, the other is to reduce the thickness of the tin backing. All these methods are aimed at reducing the cost of producing canned goods.
The application of western iron packaging materials is more and more widespread along with the improvement of printing technology and processing technology. The demand for imported iron will gradually decrease when the domestic production capacity is constantly increasing.